When you've got two active little kids and no house helper, one of the things you absolutely must learn is to cook meals faster than they could finish their fave jigsaw puzzles.   Even if you're no expert in the kitchen, you somehow find ways to whip up a dish in less than 15 minutes.  Not only that, you also get mighty good at making a meal out of whatever is in the fridge and pantry.
A few weeks ago, we were given a challenge to prepare a dish using PORKSAVOR™ All-in-One Seasoning Mix.  Since I'm no expert in the kitchen, I decided on making dishes that are quick and easy to cook using the usual veggies we have in the fridge. The first two dishes that I made used basically the same ingredients: carrots, potatoes, squash, tofu, and PORKSAVOR™.  The ingredients used for both cost less than 50 pesos in all.  Now that's what you call a real budget meal!
For the first dish, VEGGIE LUMPIA, I julienned the carrots, potatoes, squash, and tofu.  While sauteing,  I added a dash of PORKSAVOR™ to add natural pork flavor to the dish.  Once cooked, I wrapped them in lumpia wrapper then deep fried them for a few seconds.  Prep and cooking time for this dish takes just around 10 minutes.
Using half of the veggies above, I made some VEGGIE NUGGETS for the little girl's baon.  The carrots, potatoes, and squash were diced, thrown together in a pot, and boiled til tender.  The tofu was mashed and seasoned with PORKSAVOR™ to allow the flavor to permeate.  Add boiled vegetables to the seasoned tofu and mash with a fork. I used a hand blender for this but the mixture turned out too mushy so better just mash the mixture with a fork to retain some texture.  Once veggies and tofu are evenly blended, form the mixture into any shape you want.  Dust with seasoned flour, Crispy Fry, or Japanese bread crumbs then deep fry for just a few seconds.
Before publishing this post, I was able to cook another simple dish using PORKSAVOR™.  Another healthy budget meal,  this GINATAANG KALABASA WITH MALUNGGAY uses ingredients that also cost less than 50 pesos!  The kalabasa costs P10, the malunggay is P5, the gata(coconut cream) is around P10, and the PORKSAVOR™ just 2 pesos.  Moreover,  cooking this is a no-brainer as you only need to put everything together in a pan, boil, and simmer until cooked.  I actually ran out of gas while cooking this dish and had to finish cooking it in a rice cooker.  Although I left it longer that necessary in the rice cooker, the dish still tasted yummy.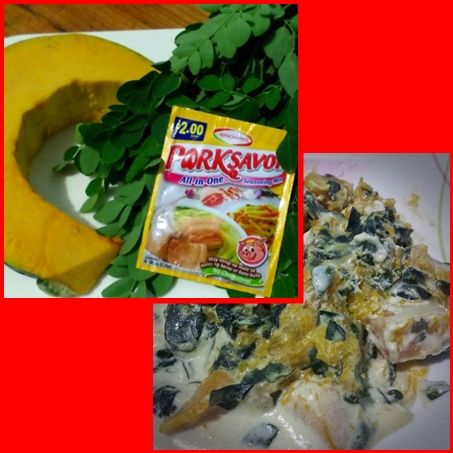 These three dishes are so easy to cook that even kitchen newbs can whip them up without any trouble at all.  The humble veggies are given real meaty taste as the new PORKSAVOR™ All-in-One Seasoning Mix is made from natural pork meat extract and bone broth.  There's also no need to use the typical panggisa garlic and onions because PORKSAVOR™ comes complete with spices and seasonings to bring out the deliciousness of home-cooked dishes.
Have you tried the PORKSAVOR™ All-in-One Seasoning Mix already?  Care to share what dishes you created with it? I'd love to give your recipe a try. 🙂