Twenty-pounds ago, when  all I really cared about was me, myself, and I, not a month passed without an appointment with my dermatologist and a trip to the salon and spa.  Now with two little kids and a house to take care of, I neither have the time nor the money to have that monthly trip to the dermatologist and the salon.  That's not an excuse to neglect proper skin care though.  Fortunately, I've found some budget-friendly lightening skin care products that help keep my skin healthy and fair.
Whitening Body Scrubs

It may not be as relaxing as being scrubbed by a spa attendant, but the few minutes I'm able to spend exfoliating all over is good enough to relax and rejuvenate me. Among the scrubs I've tried, the Sutla Vanilla Yogurt Whitening Scrub and Asian Secrets Lulur Indonesian Whitening Body Scrub are my absolute faves.  The Vanilla Yogurt Scrub had me smitten at first whiff – I absolutely love its scent!  I find the exfoliating beads too rough though so I only use it on my body and not my face.  The Asian Secrets Lulur Scrub, on the other hand, has fine lulur beads that gently exfoliates and removes dead skin cells.  This one I use on my face once in a while.
Budget-wise, these two fit right in!  A 400g pouch of Sutla Vanilla Yogurt whitening Scrub costs only P150 (text 0947.896.8007 to order) and a 250g tub of Asian Secrets costs P130 (available in groceries, department stores, and almost everywhere else :D).
Sutla Green Papaya with Milk
Although not as fair as Lucy Torres, my skin's on the fair side too.  I'm already quite happy with my skin color but am prone to skin pigmentation so I still use soap with lightening properties.   The Sutla Green Papaya with Milk is my current favorite.  It contains green papain and milk extracts that gently exfoliates my skin and sloughs away dead skin cells.  This herbal soap is cold processed making it much gentler on the skin than hot processed ones.  Another plus factor is the vitamin A and vitamin D infused in the soap.  Skin TLC that makes skin fairer too.  This soap will cost you around P60 per 135g-bar (text 09478968007 to order).
Neutrogena Hydro Boost Gel SPF30
This has no lightening properties but is something I can't live without.  I mean, what's fair skin if it's dry, right?   Of all the moisturizers I've tried, this is the only one that doesn't feel heavy and doesn't turn my face into a greasy mess after a couple of hours.  The Neutrogena Hydro Boost Gel has a progressive release system for long lasting hydration.  Moreover, it has SPF30. <3 It's a bit on the pricey side though at P800+ for a 40ml bottle – but you do get your money's worth.
Belo Essentials Whitening Anti-Perspirant Deodorant
Dark underarms is a bane of Pinays.  I bet that 1 out of 2 Pinays have to take extra measures to prevent chicken skin and pigmentation in their pits. Sadly, I'm among the unlucky half. I've found an ally in Belo Essentials Whitening Anti-Perspirant Deodorant. It promises to effectively whiten underarms in 7 days but I didn't really notice any significant change in mine when I first started using this.  Nevertheless, I've continued using it because it's alcohol-free and lives up to the 24-hr protection claim.  How much does it cost? Around P90 only for a 40-ml bottle.
Priva Intimate Wash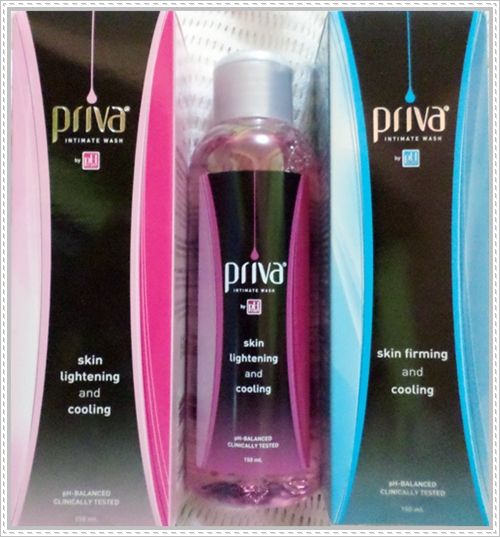 It's no secret that most women are so concerned about how they look that even the body parts shielded from public view are given much importance.  Oh yes, we all want to look and smell good down there too!   I've shun away from feminine washes before as they were too harsh on my intimate area.  It used to be just plain ol' Dove soap and clean water for me.  Although it provides gentle cleansing, it just wasn't enough to make me feel confidently clean down there.  Which is why I'm sooooo glad that there are now washes that are pH-balanced and gentle on the skin.
I've recently tried Priva Intimate Washes and have not had any adverse reactions to either variants – no stinging, no rashes, no irritations.  Yey!!! for that. The Priva Skin Lightening and Cooling Intimate Wash has glutathione and natural strawberry extracts (strawberry! hmmmm…) that help lighten skin. The other variant, Priva Skin Firming and Cooling Intimate Wash, contains Witch Hazel extracts, collagen and Kwao Krua extracts that help improve skin elasticity and firmness and help retain moisture.  I use both variants alternately.  Both variants contain RevitaCool which leaves you cool and refreshed after every wash.  At around P140 for a 150ml bottle, Priva Intimate Wash can be included in your monthly grocery list without putting any dent on your budget.  Oh, but it could put a dent in the bedframe  *wink*.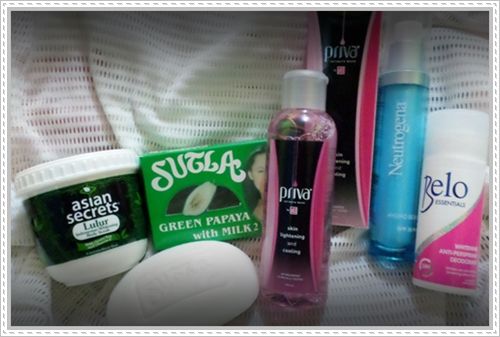 Those are my current fave lightening skin care products.  Are you using any of them, too?  What products are currently part of your skin care routine?