Most people like to travel because of the fun and adventure that it offers. But travelers can actually bring home more than just fun from their trips. A lot can be learned by visiting different places and experiencing new cultures. Sightseeing and museum trips are great tools for learning about history, especially for kids. Taking them to historical places brings life to the lessons that they have read in books. There are plenty of destinations in the Philippines where you can enjoy travel and history adventures with kids, and most have kid-friendly hotels that you can book online. If you want to find the best deals, you can try looking at Traveloka. This website offers the best prices with no hidden charges so you'll definitely enjoy great savings. Most of our travels involve road trips to Luzon provinces; but last year, we decided to explore the Visayas Region.
Cebu and Bohol are popular tourist destinations because there are plenty to see and do in these cities. The kids immediately got excited when we told them that we were going to Cebu and Bohol for a short holiday. We also told them about our planned itinerary to see if it was something that they would enjoy. Getting your kids' opinion in your travel plans is one way to guarantee a happy trip. I'm pretty sure that they got excited with the idea of a plane ride, then nothing else mattered from that point on.
So, I finalized our itinerary and booked flights and accommodations in Cebu. We got a family room at the Crimson Resort in Mactan, Cebu for our first day then transferred to the Summit Circle Hotel in Cebu City the following day. It may seem unusual to have bookings at two different hotels for one trip, but this strategy enabled us to maximize our trip.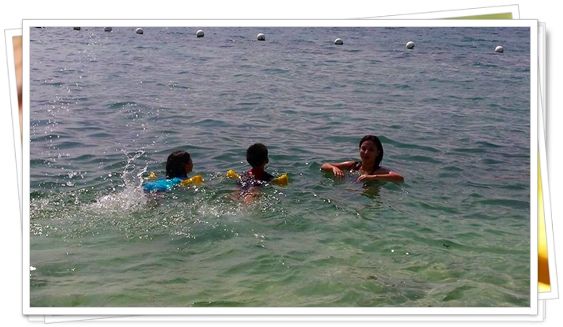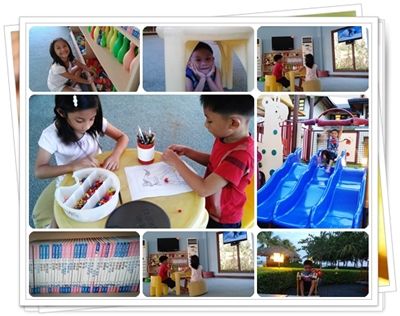 From the airport, we took a 10 min ride to the Crimson Resort hours earlier than check-in time. The kids wanted to try the waters as soon as they saw the beach and the swimming pools so we left our luggage first at the reception area and used the shower rooms in the pool area to change into swimming gear. Rest and recreation is first on the agenda in our travel and history adventures with kids. This is because I wanted the kids to take a break from anything that has to do with school before our sight-seeing trips.  We hit the beach right in time for the fish feeding activity.  Having dozens of fish swimming around us, however, freaked little Jade out so we spent the rest of the morning in the swimming pool.  She refused to go back to the beach the rest of our stay there.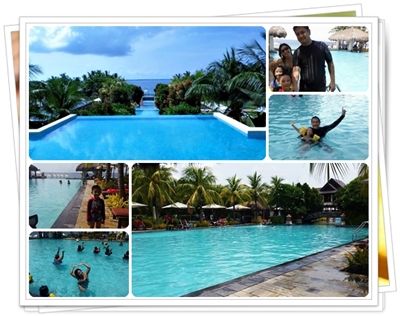 The following day we transferred to the Summit Circle Hotel in Cebu City. This hotel is located at the city proper where most of the landmarks are within reach. Accommodations in the city proper are more practical for tourists who want to experience the history and culture of Cebu City, while those who love the beach may be better off in Mactan Hotel and Resorts. We chose the Summit Circle for its affordability and the convenience it offered since the mall was easily accessible and it was walking distance to a lot of other establishments.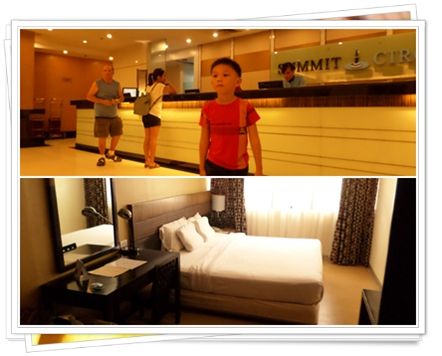 We spent a whole day visiting landmarks during our travel and history adventures in Cebu. The kids started their history lessons with a tour of Fort San Pedro, a walled city similar to Intramuros in Manila. We had been to Fort Santiago before so the kids were able to see the similarities in the two forts.  We then proceeded to the Basilica Minore del Santo Nino Cebu, the oldest Catholic Church in Cebu built during the 16th century. We pointed out the stained glass designs and some structural details so the kids can appreciate the art and architecture from that era.  Right beside the Basilica was Magellan's Cross where they saw the original cross planted by Ferdinand Magellan when he first landed in the island of Cebu.  Our visit to the Taoist Temple was quite challenging because we had to negotiate what felt like a thousand steps to get to the top. It was a good thing that my kids are always up for an adventure and made it to the top without getting cranky. We had a nice view of the city and the kids enjoyed exploring the temple. It was also one way to expose the kids to different beliefs and to teach them about respect for all religion.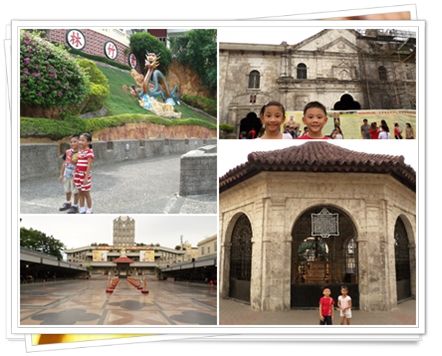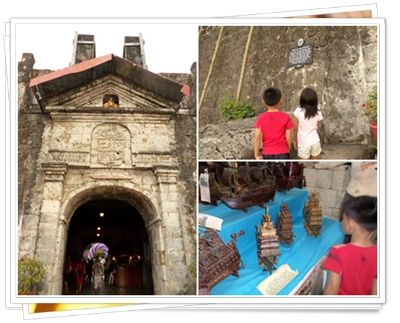 After a busy day in Cebu, I was surprised to see the kids fully recharged and ready for the next leg of our trip. We took a ferry from the Cebu Port to Tagbilaran, Bohol for a quick tour of popular tourist spots in Bohol. We enjoyed a scenic countryside ride to the Chocolate Hills, Blood Compact Monument, Baclayon Church, and Tarsier Sanctuary.  Our first stop was the Tarsier Sanctuary.  The kids were scared at first but they became more comfortable as they learned about the animals from our guide. They even wanted to take a tarsier home but of course we had to explain to them why that wasn't allowed.  We then took a short drive and a long hike up the viewing deck at The Chocolate Hills.  Some parts of the Chocolate Hills were affected by the great quake years ago but these hills are still awesome creations of nature. The kids also got their dose of history by learning about the blood compact ritual and visiting the Baclayon Church.  We had lunch while enjoying the Loboc River Cruise. It was pretty uneventful but the "adventure" ambiance kept the kids excited throughout the ride.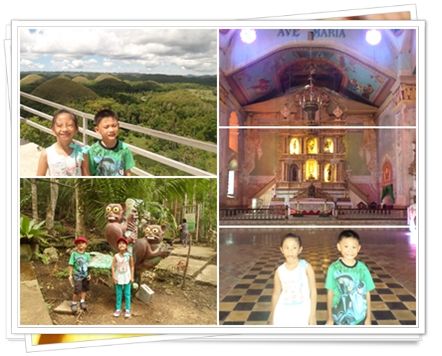 We had a very fulfilling travel and history adventures with kids during our trip to Cebu and Bohol. I am very happy that the kids enjoyed their experience, perhaps more than I did. They also brought home a lot of fun facts from their trip that they shared with friends and family. Proving once again that travel isn't just a fun experience. You can also give your kids a fair share of art, history, religion and cultural lessons by indulging in these trips.