Last August, I had the privilege of watching Chef Sandy Daza cook his specially created recipes using authentic Lee Kum Kee sauces. Two of those recipes I managed, quite successfully if I may say, to cook in our kitchen.
On September 24, I once again had the privilege of watching another cooking master, Chef Ernesto Reynoso-Gala, share his culinary expertise during the fourth leg of the Weekend Cooking Festival. Chef Erns demonstrated how to properly cook three delectable dishes all featuring Lee Kum Kee sauces: Chinese Fried Rice with Lee Kum Kee Hoisin Sauce, Chicken Wings with Lee Kum Kee Chili Garlic Sauce, and Sizzling Chinese Beefsteak with Lee Kum Kee Char Siu Sauce.
The Chinese Fried Rice with Lee Kum Kee Hoisin Sauce was, for me, the easiest dish to cook. It is also the most colorful dish so I'm sure my toddlers will enjoy eating it when I do get to cook it myself at home. The Chicken Wings with Lee Kum Kee Chili Garlic Sauce is like an Asian version of buffalo wings. I love chicken wings and I love spicy food so I definitely will be cooking this dish a lot at home. The last dish Chef Erns prepared that day used beef as the main ingredient. I haven't gotten the knack of cooking beef properly yet so I'm a bit hesitant cooking this dish. Chef Erns made it appear so easy to cook though that I just might give it a try one of these days.
From this very young chef, I learned so many valuable tips in cooking among them are:
Read the recipe before starting to cook. Prepare all the ingredients and utensils you need to use.

Sesame oil is the perfume of your food. It adds aroma to your food and is not meant for deep frying or pan frying.

When marinating, mix the marinade well before adding the meat. This ensures that all flavors are evenly distributed.

When cooking, do not stir too much as this prolongs cooking time.

 Asian dishes often use cassava (tapioca) starch to make sauces thicker. European dishes on the other hand use flour.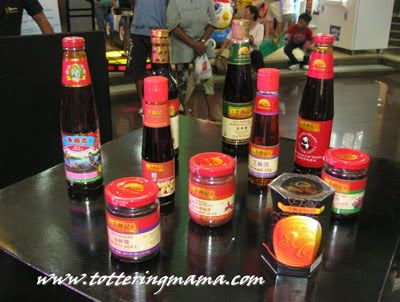 Chef Erns also emphasized that cooking should not be too difficult that it leaves you too tired to enjoy the meal with your family. Cooking should always be fun and easy. With the many quality products Lee Kum Kee offers, cooking is made easier as their authentic Chinese sauces provide exceptional flavor and aroma to our dishes.
I had the entire family in tow and could not stay longer for Chef Him Uy de Baron's cooking demo. I would have loved to see how he personally cooked his three delectable dishes: Beef Bulgogi "Taco" with Chili Garlic, Mushroom Chive and Cheese Dumpling, and the Grilled Hoisin Pork Chops with Grilled Peach Salsa. I have the recipes though so I'll still be able to try cooking the dishes at home.
Hopefully, I'll be able to catch Chef Bruce Lim at the Cook With The Masters Grand Cooking Demo at the Glorietta Activity Center on October 9, 2011. Chef Bruce Lim, Lee Kum Kee's ambassador for Southeast Asia, will be joined by culinary students, media, and celebrities who will be showing their culinary skills side-by-side The Masters. Be a part of this weekend cooking festival and show your love through taste with Lee Kum Kee!