From May 14 to May 25, my little Cuppy Cake and I were at SM Marikina daily.  No, we were not on a daily shopping spree(though I wish we were!). Our little Jade joined the Ultimate Summer Camp 2012 which I felt was a perfect setting for her to prepare for school this June.  Plus, the registration fee for the 10-day camp was only 550-pesos – how's that for value for money?!
On the first day, she refused to let go of my hand(except when all the other kids were on stage and I plopped her right in front) and did not talk to any of the other children. I was encouraging her to make friends but she was too shy to do so. This is the first time she'll be joining a huge group of kids and was understandably wary of everyone.  So throughout the mall tour that day, my little princess hand was locked in mine, or should I say, my hand was locked in hers.
There was a Magic Show on the second day but Jade didn't fully appreciate the tricks. After the show, the campers were taught how to perform some magic tricks. Jade can now make a scarf disappear inside a red paper cone. From the look in her face though, it seems that she herself believed that the scarf really disappeared!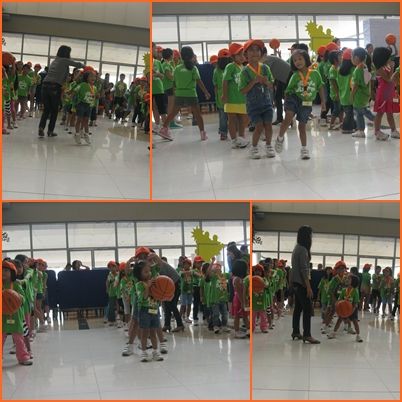 Toby's sponsored the Sports Clinic on the third day. At first, Jade was hesitant to let go of my hand and just stayed beside me on the sidelines. Good thing, Ate Kaye saw us and prodded Jade to join the fun.  She joined the warm-up exercises, jogged around the Atrium, and joined one of the relay games.  Too bad the video I took of her passing the ball between her legs to Ate Kaye was accidentally deleted (along with her first modelling stint 🙁 boo-hoo!).  The ball was quite big she could barely push it between her legs but after she does the task, she would jump with glee as if she won the game every single time.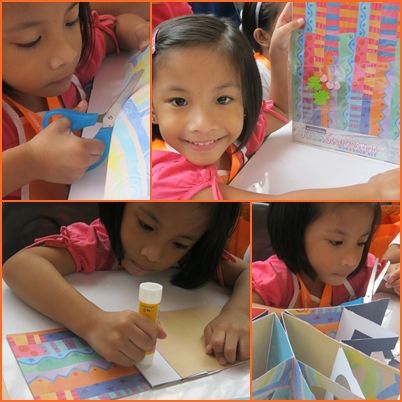 Day 6 was the Arts & Craft Day which I was looking forward to as I love crafts.   We were taught how to make an Any Day Star Album by ladies from All About Scrapbooking. Jade did some of the cutting and pasting so the edges were a bit ragged. But, heck, that was mighty fine cutting for a four-year-old.  I'll be printing some pictures taken during the entire camp so we can place those in the album.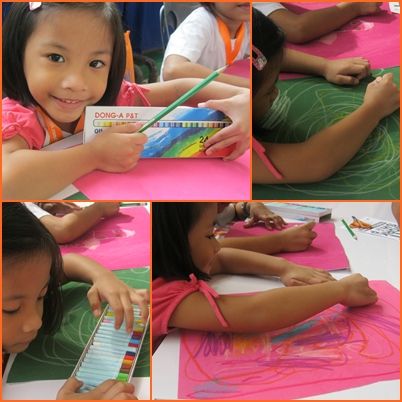 After we finished our album, artists taught us how to use DONG A oil pastels to create drawings on felt paper.  Jade's still unable to draw recognizable figures and her work consisted mainly of scribbles and basic shapes.  Oh, and we got a free box of oil pastels from Dong-A. Thank you so much for the freebie!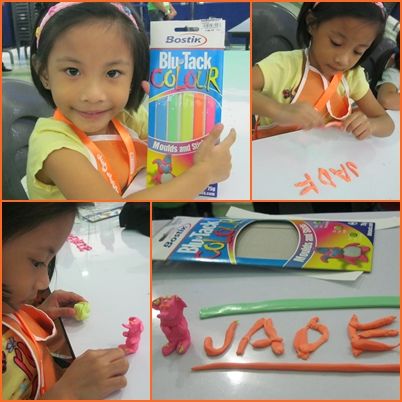 The 5th workshop was a Do-It-Yourself workshop by ACE Hardware.  Most of the afternoon was spent orienting the little ones about the different tools dads and moms use for cleaning, organizing, and fixing the home.  ACE Hardware gave out plenty of goodies to those who listened to the demos and answered questions correctly.  The picture above shows Jade decorating the elephant (yes, that's an elephant. see the trunk?)  I made using Blu-Tack whose many uses were explained during the workshop.
Hubby had no work on Saturday so he attended the MAD SCIENCE DAY with Jade.  I don't know exactly what happened during the workshop but hubby said they just watched different science demonstrations and that was it.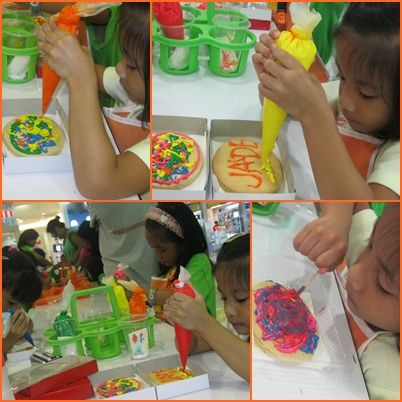 Day 7 was Cookie Decorating Day and being the baby chef that she is, Jade had loads of fun being a pastry chef that I had to buy two more cookies for her to decorate. By this time also, she was already quite comfortable with Ate Kaye and looked forward to seeing her.
The Modelling Workshop was scheduled the next day and I fervently wished that Jade would let go of my hand and walk on stage. You see, she loves to walk like a model at home and I'm sure she was excited for the workshop also. However, she's never let me out of sight since camp started and I was worried she may not want to go on stage at all. On the way to SM, I kept on reminding her that Mama cannot walk on the stage with her while psyching her up that modeling would be fun. To my delight, she did let go of my hand AND walked on stage! Unfortunately, the video I took of her was accidentally deleted. Boo-hoo. Still, the proud smile on her face when she posed at the end of the catwalk would be forever etched in my mind.
The last workshop was Dance during which they were taught a simple choreography for Moves Like Jagger. The steps were too complex and the music too fast that Jade couldn't keep up. After the first set of steps were taught, she asked for some water then refused to join the campers again. We ended up just watching the other kids dance. I took a video of the choreography so we could watch it at home. Hubby tried to teach our little princess the steps but after just a few steps, she refused to dance any more.
To my great surprise, AND PRIDE,  Jade performed on stage during their RECITAL & RECOGNITION DAY.  Watch the video here.
We're really glad we signed Jade up for the Ultimate Summer Camp.  Aside from learning several new skills, my Cuppy Cake also learned how to make friends.  We're definitely looking forward to next year's camp.