There's a new party venue in town and I'm certain kids will love it here.  The Goldilocks Cake City, with its fanciful decor and ready access to delightful Goldilocks treats, is perfect for any Goldi-good celebration.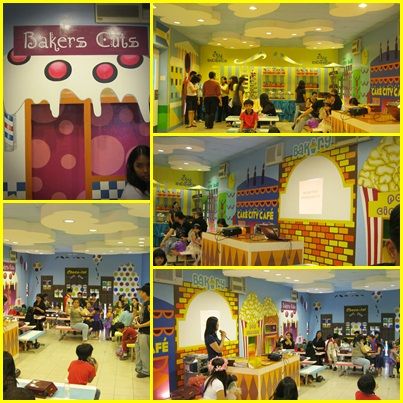 Last Saturday, our family was invited to a Whimsical Halloween Party at The Goldilocks Cake City where we experienced firsthand how well Goldilocks plans and hosts a party.  When we arrived, we were ushered to a table and given a cake to decorate.  My Jade soooo loves to do this and eagerly started to pipe icing on the cake.  She would have been happy doing this all day had we not stopped her when she accidentally burst one of the piping bags.  Jakei though just stuck a couple of the Halloween decors on the cake then set off eating all the sprinkles.  Oh, and he had a grand time doing just so. 😛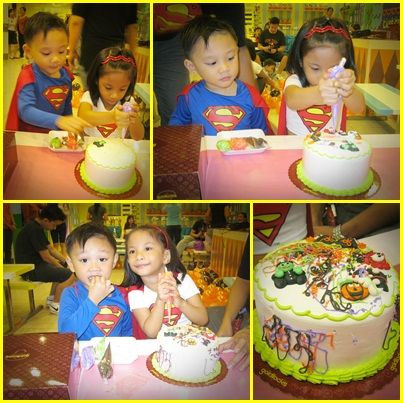 After about half an hour,  the program started and the kids had fun joining various games.  Though they didn't win in any of the games they joined, they still got treats just for participating.  With lollicakes and choco lollipops, I'm sure they both felt like winners!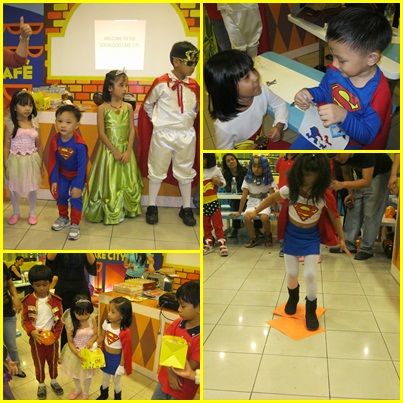 Lunch was the usual party fare of spaghetti, fried chicken, and barbeque.  There was also rice and beef caldereta available.  Halloween decorated choco cupcakes topped our meal off.  The kids were in party mode and didn't really eat much.  Not wanting to be party poopers, we just let them play with the other children.  (There were more than a handful of them playing, so I guess a lot of parents there didn't want to be party poopers :D).
Special prizes were given to Mommy Peach of The Peach Kitchen for her awesome cake decorating skills and the Mommy Louise of Mommy Practicality for wearing the most whimsical costume.
Though they didn't get any special awards, both my little ones went home laden with goodies from Goldilocks.  They gifted us with pumpkin baskets filled with popcorn, cookies, cupcakes, and polvoron, and a bitbit box full of delightful cake slices.  Oh, and we also got to take home the cake the little ones decorated.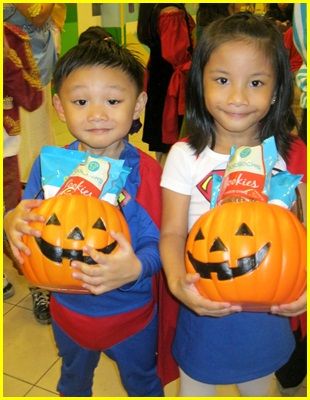 Goldilocks has truly transformed from our favourite bakeshop into a one-stop celebration specialist.  Aside from delectable cakes and pastries and a full menu of sumptuous food, Goldilocks has created an amazing venue for us to celebrate any momentous occasion.  All you need to do is choose a theme, a cake design, meal package, and other amenities and Goldilocks will take care of everything else for you.  Come party time, just show up in your prettiest and have fun with all your guests.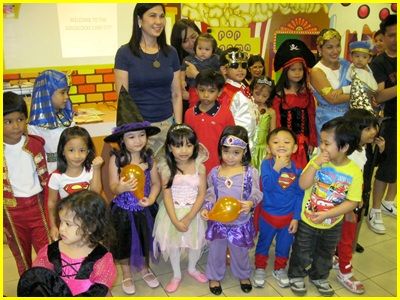 For inquiries about Goldilightful and Goldilicious Party Packages at Goldilocks Cake City, call 727-6505 or 727-6504.  Better yet, visit the Goldilocks Cake City and see the fancily decorated rooms yourself.