It's World Toilet Day today!  Join us in our advocacy for better toilet sanitation.  Here's how you can help:
Pledge To Keep Your Toilets Clean
Take a pledge now to always keep your toilets clean.  It only takes 3 simple steps to do so.  You can save lives by sharing the infographic photo on how to properly clean toilets. By sharing the infographic, you are helping in spreading the awareness of disease prevention at home by cleaning toilets the proper way with Domex on World Toilet Day.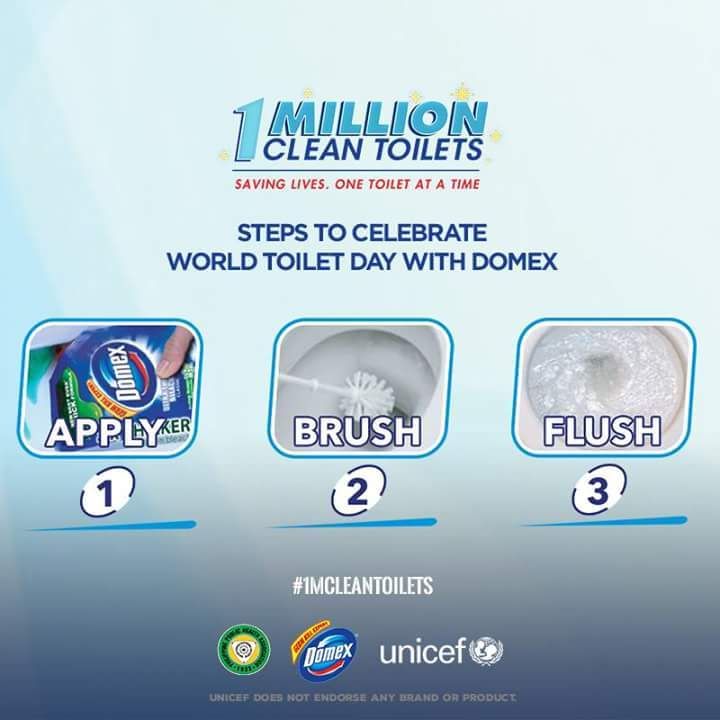 Watch and Share the "Sick Days" Video
You can also help spread awareness by sharing the video embedded in this post.  Just a few clicks (or taps) will be a big help in reaching more people and making them aware that there is a global sanitation problem.
Join the Tottering Mama x Domex Giveaway
Be a #1MCleanToilets advocate and get a chance to win 2 months worth of cleaning products from Domex. Just do the following:
Take a photo of yourself or a loved one doing the checkmark hand gesture using your left hand.
Answer the questions "Who do you protect from disease causing germs? Who inspires you to keep your toilet at home clean and germ-free?"  (Sample Answer:  I make sure that our toilet at home is clean and germ-free to protect my two little children from germs.)
Post your photo with your answers on Facebook, Twitter, and Instagram with the hashtags #TMxDOMEX #WorldToiletDay2015 #1MCleanToilets. Make sure also that you follow/like the following accounts:
The contest will run from November 13 til 12:00 noon of November 20 (that's next Friday). Winners will be announced on the same day. Gift packs can be claimed at the Stratworks office in Makati until December 15, 2015.
Buy and Use Domex Products to Keep Your Toilet Germ-Free
Unilever and Domex have this advocacy a step further by solidifying partnerships with Department of Health, Philippine Public Health Association, and UNICEF. For every bottle of Domex, P5.00 goes to UNICEF Sanitation program, which will help build one million clean toilets in areas where proper toilet sanitation is inaccessible.
By buying Domex Products, you not only keep your family safe from diseases, you also get to help other people have better, cleaner, and germ-free toilets.
These are just very simple and easy ways to help the One Million Clean Toilets Movement.  Be an advocate also and
help save lives one toilet at a time!